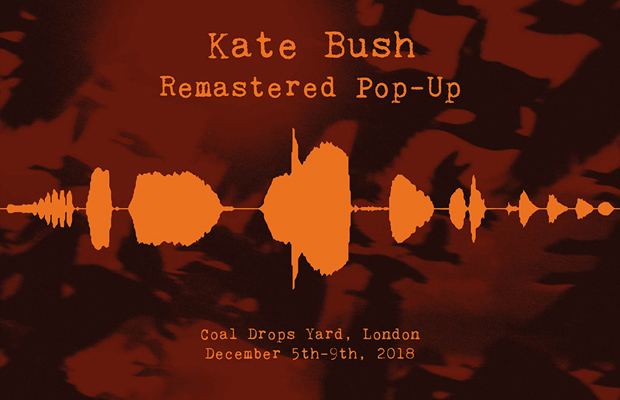 Fish People presents: KB Remastered, Pop Up
A special pop-up shop will open at London's Coal Drops Yard in King's Cross from 5 – 9th Dec 2018. All profits will go to the national homelessness charity, Crisis.

The shop is at 108 Lower Stable St, London, N1C 4DR and opens at 10am on Wednesday Dec 5. The shop closes at 8pm on Sunday Dec 9.
Specific opening times are:
Wednesday 5th December: 10am to 10pm
Thursday 6th December: 10am to 10pm
Friday 7th December: 10am to 10pm
Saturday 8th December: 10am to 8pm
Sunday 9th December: 11am to 8pm
Full Press Release:
Coinciding with the release of definitive remastered versions of her music catalogue, as well as the publication by Faber of the lyric book How To Be Invisible, the shop will sell the vinyl, CDs and book plus a selection of exclusive specially made items. Each book sold will include an exclusive bookmark.
In addition to the stock there will be a daily raffle with very special prizes which will be announced on social media. The store is located in a space at 108 Lower Stable Street, a sunken street within the new Heatherwick Studio designed Coal Drops Yard shopping district, directly adjacent to King's Cross' Granary Square.
DAILY RAFFLE:  every day these prizes are there to be won:
'How To Be Invisible' lyric books (standard edition) signed by Kate   x 10
Calligraphic art print of '50 Words For Snow', signed by Kate   x 10
Rare 'King Of the Mountain' picture disc (Originally created for a Record Store Day) unsigned   x 4
Rare 'Running Up That Hill' picture disc (Originally created for a Record Store Day) unsigned  x 16
Kate said "I can't imagine how it must feel to be homeless. Our attention is drawn to this tragic issue at Christmas when most of us can share the celebrations with those we love but, of course, homelessness is there all year round – all the time. It must be so frightening. Without charities like Crisis, who would people turn to? Who would help? Where would the hope of a future come from? I hope this pop up shop will raise some money for Crisis and raise more awareness of this life-saving charity".
Crisis Chief Executive Jon Sparkes said; "We're absolutely thrilled that Kate Bush has chosen to support us this Christmas by donating all of the profits from her pop up shop.
"Homelessness is one of the most urgent issues of our time – across the country thousands of people are needlessly suffering life on the streets or trapped in hostels and B&Bs. We simply can't carry on like this when we know that homelessness is not inevitable.
"The money raised by Kate and her fans will help us provide food, warmth, and vital services to thousands of homeless people this Christmas – as well as the year round support they need to leave homelessness behind for good – and for that we're incredibly grateful."
More info to follow