Rock & Roll Hall of Fame
I am completely blown away by this huge honour – an award that sits in the big beating heart of the American music industry.
Thank you so much to everyone who voted for me. I never imagined I would be given this wonderful accolade.
Last year was such a surprisingly successful time for my track Running Up That Hill and
I'm sure that a lot of you who've voted me in to the RRHOF also drove that track up the charts. Thank you!
I'm afraid I won't be able to attend the ceremony tonight, but for me the real honour is knowing that you felt I deserved it.
The RRHOF has welcomed me into the most extraordinary rostrum of overwhelming talent.
When I was growing up my hero was Elton John. I poured over his music, longed to be able to play piano like him and longed to write songs that could move people in the way his work moved me.
That little girl in South East London could never have dreamed she'd be sharing the event tonight with Bernie Taupin, Elton's writing partner, an incredible lyricist who inspired me to keep writing songs – to keep trying. Congratulations Bernie! Congratulations to everyone who is being inducted tonight!
Music is at the core of who I am and, like all musicians, being on the journey of trying to create something musically interesting is rife with feelings of doubt and insecurity.
I'm only five foot three, but today I feel a little taller.
Kate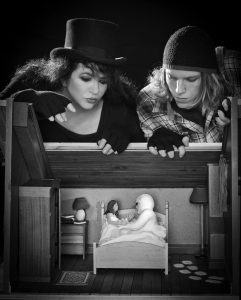 This animation set is also being inducted into the Hall of Fame.
'I hope people will enjoy seeing this set from the animation, Mistraldispair. It's been sitting in our hallway at home for years. I'm going to really miss it, but take comfort from the fact that it's gone to a really good home.'